Briefing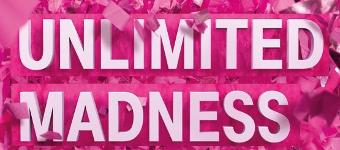 Het artikel moet gaan over de salescampagne van T-Mobile 'Unlimited Madness'. Deze actie is wegens succes met 2 weken verlengd tot 2 juli 2017. De kortingen lopen op tot wel 50% op een Go-abonnement bij T-Mobile in combinatie met één van de nieuwste toestellen of als Sim Only. De actie is tot 50% stapelkorting in combinatie met T-Mobile Samen. Hiervoor moeten klanten een T-Mobile Samen groep aanmaken waarmee ze tot €5 per maand extra korting krijgen. De voordelen van Unlimited Madness moeten in het artikel duidelijk naar voren komen, dus:
Extra scherp geprijsde toptoestellen
Korting op jouw G-abonnement
Tot €5,- extra korting met T-Mobile Samen
Link

Anchor text / Link title

sollicitatietraining
Conditions
Other Conditions
Het artikel moet minimaal 3x de woorden Unlimited Madness en T-Mobile bevatten. Het moet een blogartikel zijn. De website van de publisher moet minimaal 50.000 bezoekers per maand hebben. De salescampagne loopt tot 2 juli, wij zullen dan ook maar voor één week uitbetalen. De toon of voice moet speels en gedurfd zijn. Het artikel moet minimaal 2 links en onderstaande afbeelding bevatten.
Eén link naar: https://www.t-mobile.nl/unlimited-madness
De andere link naar: https://shop.t-mobile.nl/
Alle artikelen dienen ter goedkeuring te worden voorgelegd aan T-Mobile. Het artikel moet een week lang een prominente plek op de website krijgen van de publisher en moet via de social kanalen van de publisher een push krijgen. - UTM source zal apart per URL/link aangeleverd worden.
Channels
Wanted Categories

Target audience age

Between 13 and 65

Campaign closes

2 years ago

Submitted before date

2 years ago