Briefing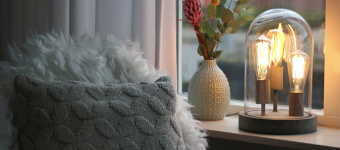 Zoek je een strakke bureaulamp voor je kantoor of zoek je een stoere industriële lamp voor boven de eettafel? Directlampen is daar het juiste adres voor. Directlampen biedt een uitgebreide collectie met alle stijlen en soorten verlichting. Denk aan hanglampen, vloerlampen, wandlampen en tafellampen. De collectie bestaat alleen uit met zorg geselecteerd merken, zoals Steinhauer, Light & Living, Anne, Globo of Bronq.
Ben jij op zoek naar een leuke samenwerking met een tof bedrijf? Neem een kijkje op onze website directlampen.nl en pitch op deze campagne!
We zoeken: Interieurbloggers die voor hun doelgroep een artikel over verlichting willen schrijven. dat kan voor woningen en bedrijfspanden zijn.
Afhankelijk van je bereik stellen wij een shoptegoed ter beschikking voor een of meerdere toffe lampen uit onze webshop. We zijn dus op zoek naar bloggers die op basis van een barterdeal samen willen werken. Let op: een fixed fee is dus niet mogelijk. Vermeld in je pitch welke lampen jij graag zou willen ontvangen en wat de prijs hiervan in totaal is.
Wil je liever samenwerken op basis van een fixed fee, dan ontvangen we graag een pitch in onze andere campagne.
Link

Anchor text / Link title

Directlampen.nl
Conditions
Common conditions
Contain 2 links
Shared through social media
Use at least one image
The article is a permanent placement
The article should have at least 300 words
Other Conditions
Link en anchorteksten in nader overleg
Channels
Wanted Categories

Shopping
Family & Parenting
Home & Garden
Beauty & Fashion

Target audience age

18 till 24
45 till 54
25 till 34
35 till 44

Campaign closes

in a month

Submitted before date

in 2 months
Apply to join this campaign
Do you want to join this campaign? Log in or sign up and apply straight away!