Briefing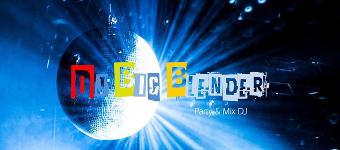 DJ Big Blender is gevestigd in Zwolle, maar draait al vele jaren met succes op de leukste feesten in heel midden Nederland. Je moet daarbij denken aan: Overijssel, Gelderland, Flevoland, Drenthe.
Een DJ huren doe je niet iedere dag..
Een DJ huren is de slimste keuze om jouw feest te laten slagen. Want met de sfeer van de muziek bepaal je immers een groot deel van de stemming. En gezellige, enthousiaste gasten is toch wat je wilt als je jouw bruiloft viert, een tuinfeest houdt of een ander swingende party geeft. Het inhuren van een dj doe je dus ook niet zomaar. Je wilt er wel zeker van zijn dat het klikt en de DJ begrijpt wat jij in gedachten hebt.
Het meest draait DJ Big Blender op Bruiloften, maar daarnaast is hij ook te vinden op openbare Dance Classics feesten, Foute Party's, verjaardagsfeesten en bedrijfsfeesten.
De laatste jaren zijn echter een aantal 'dj boekingsfabrieken' in opkomst die het internet steeds meer domineren en massa-werk leveren. Omdat Big Blender als zelfstandige persoonlijk wil blijven werken, maar toch wil opboksen tegen de grotere kantoren die hoog in Google komen is deze campagne en pagina opgezet waarbij het de bedoeling is een graantje mee te pikken van het thema in deze branche met verreweg de meeste zoekvolume "dj huren".
Het voorstel mag een linkvoorstel zijn, maar ook een nieuwe post zijn op een website.
Op de website die gepromoot moet worden (https://www.djbigblender.nl/dj-huren/) zal ik nog meer beeldmateriaal toevoegen.
Link

Anchor text / Link title

in overleg
Conditions
Common conditions
The article is a permanent placement
Shared through social media
Use at least one image
Other Conditions
..
Channels
Wanted Categories

Hobbies & Interest
Arts & Entertainment

Target audience age

35 till 44
45 till 54
25 till 34

Campaign closes

6 months ago

Submitted before date

6 months ago