Briefing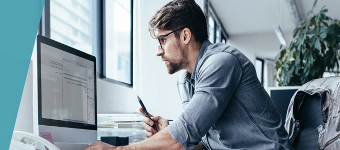 What do we want an influencer to do:
ERP staat voor Enterprise Resource Planning. Een ERP systeem automatiseert en verbindt bedrijfsprocessen binnen een organisatie. Alle gegevens van de verschillende afdelingen worden opgeslagen in een centrale database, waardoor ze altijd voor iedere medewerker inzichtelijk zijn. Een ERP systeem is een tool die zorgt voor een hogere productiviteit binnen de organisatie, doordat veel processen binnen dit informatie- en managementsysteem geautomatiseerd kunnen worden.
Geen organisatie is hetzelfde. Dat is ook de reden dat ERP software zo veel van elkaar verschilt.
ERP Overzicht is de Nederlandse vergelijker voor ERP software. Op ERP Overzicht hebben wij de gegevens verzameld van de ERP leveranciers en ERP software in Nederland. Op basis van meer dan 250 kenmerken kunnen bedrijven nu zelf de eerste stap maken voor het vinden van de juiste zakelijke software. Bij ERP software verschilt het per sector heel erg wat een bedrijf nodig heeft. Het uitgangspunt voor de artikelen is dus waar bedrijven op moeten letten bij kiezen van een ERP systeem voor een bepaalde sector. Voorbeeld: "Een ERP systeem voor de bouw." Op onze website staan ook soortgelijke artikelen.
We gaan graag samenwerkingen aan met tech gerelateerde business platformen of branche organisaties, voldoet jouw website hieraan, dan ontvangen we graag ja pitch.