Briefing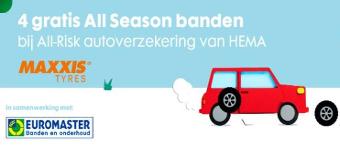 Jouw auto, je kunt bijna niet zonder. Bij HEMA snappen we dat je zuinig bent op je spullen en vóóral op je auto. Met een autoverzekering van HEMA profiteer je van scherpe premies en ben je verzekerd van een prima dekking. Je auto verzekeren is heel simpel: in een paar klikken kun je online alles regelen. Bovendien zijn onze polisvoorwaarden voor iedereen te begrijpen en kun je de verzekering opzeggen wanneer je maar wilt.
Tot en met 31 dec 2018 krijgen nieuwe klanten van HEMA die een allrisk autoverzekering afsluiten een set van 4 all season banden cadeau. Deze actie heeft HEMA opgezet in samenwerking met Euromaster. Tot april 2019 kan er een afspraak worden gemaakt bij een filiaal van Euromaster om de banden te laten monteren. En ook dat is gratis!
Kun jij een artikel schrijven over deze toffe actie en onze autoverzekering? Onze site biedt genoeg informatie om het artikel zo in te richten als jij denkt dat het aansluit bij jouw bezoekers. Zou hebben wij een aantal handige weetjes op een rijtje gezet, bieden we een scherpe premie, wordt overstappen erg makkelijk gemaakt en worden we goed beoordeeld.
Link

https://verzekerdbijhema.nl/?utm_source=linkpizza&utm_medium=link&utm_campaign=allseason&utm_content=link

Anchor text / Link title

4 gratis all season banden bij HEMA allrisk autoverzekering
Conditions
Common conditions
The article should have at least 300 words
Shared through social media
The article is a permanent placement
Channels
Wanted Categories

Target audience age

45 till 54
35 till 44
65+
25 till 34
18 till 24
55 till 64

Campaign closes

in one week

Submitted before date

in one week
Apply to join this campaign
Do you want to join this campaign? Log in or sign up and apply straight away!