Briefing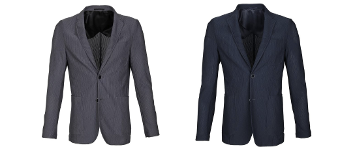 Colberts zijn gemakkelijk te combineren met een nette pantalon of casual spijkerbroek, voor een stoere, maar toch geklede uitstraling. Suitable biedt luxe afgewerkte heren colberts, zowel in linnen, katoen als wol. Dit kledingstuk kan bij iedere gelegenheid gedragen worden en is daarmee zowel een onderdeel van uw (business) kostuum als van uw "gewone" kleding. Zo kunt u een colbert ook als casual jasje dragen.
De colbert behoort tot de modeklassiekers. U kunt er maar beter eentje in de kast hebben, want hij kan met heel veel andere kledingstukken worden gecombineerd en is geschikt voor elke gelegenheid. Hij maakt altijd een goed figuur of het nou met t-shirt en jeans is voor in de vrije tijd, of met hemd, das en chino bij formele gelegenheden. Voor diegene die het nog niet wisten: de herencolbert is een jasje met één of twee rijen knopen, een kraag en revers.
Colberts zijn er bij Suitable in allerlei kleuren en maten. Zo is er voor iedere man een geschikte blazer te vinden. Ga voor een chic jasje of juist voor een look die meer casual is.
Graag zien wij een artikel op jouw website over het veelzijdige maar altijd goede colbert. Het is de bedoeling dat je je lezers inspireert met de feestdagen in het achterhoofd en natuurlijk verwijst naar onze webshop.
Link

Anchor text / Link title

Colberts en Blazers
Conditions
Conditions
The article is a permanent placement
Contain 2 links
Shared through social media
The article should have at least 300 words
Use at least one image
Other Conditions
tweede link en anchortekst in nader overleg
Geen no-follow tag gebruiken
Geen pop-ups op de betreffende pagina
Je hebt veel (heren-) fashion gerelateerde artikelen op je website staan
Channels
Wanted Categories

Shopping
Beauty & Fashion

Target audience age

Between 18 and 64

Campaign closes

8 months ago

Submitted before date

8 months ago