Briefing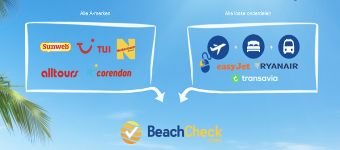 Met BeachCheck vergelijk je alle prijzen voor dezelfde vakantie. Daarnaast checken we tegelijkertijd of het voordeliger is om de vakantie los samen te stellen. Zo maken wij onze eigen pakketreizen uit een enorme database van losse vluchten, accommodaties en transfers. Zo zijn we vaak net iets voordeliger dan traditionele touroperators als TUI, Corendon en Thomas Cook. Lukt dat een keertje niet, dan boek je gewoon de meest voordelige vakantie van de touroperator. Bij BeachCheck vind je dan ook altijd de beste deal voor jouw vakantie!
Als influencer kun je jouw volgers natuurlijk als beste uitleggen waarom BeachCheck net anders is dan andere partijen en waarom jouw volgers toch écht even een kijkje moeten nemen op onze website. Zeker wanneer zij al een bepaalde accommodatie op het oog hebben. Bij BeachCheck hebben jouw volgers namelijk alle vrijheid om te kiezen voor een bepaalde vlucht, vertrekluchthaven en/of aanbieder. Bovendien betalen zij géén boekingskosten.
We hopen dat je een leuk blogartikel, vlog of review kunt schrijven over ons concept. Laat ons in je pitch weten waarom jij de aangewezen persoon bent om BeachCheck in het zonnetje te zetten. Het is bovendien mogelijk om in overleg met ons een speciale kortingscode aan te maken voor jouw volgers.
Link

Anchor text / Link title

vakantie vergelijken
Conditions
Common conditions
Contain 2 links
Put a link in the first paragraph
Use at least one image
Shared through social media
The article is a permanent placement
The article should have at least 300 words
Other Conditions
Tijdens het promoten van ons concept publiceer je geen vergelijkbare content voor concurrenten voor een periode van 30 dagen.
Genereer jij voor ons nieuwe sales? Dan ontvang je 3% vergoeding op de totale reissom.
Channels
Wanted Categories

Target audience age

Between 18 and 64

Campaign closes

7 months ago

Submitted before date

6 months ago