Briefing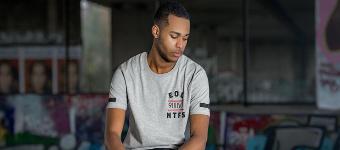 EO Leog Nine-Three-Four-Seven (EOL 9IIIIV7), is een nieuw streetwear merk dat volledig is ontstaan/ontworpen vanuit de waardering voor een ieders identiteit. De filosofie van het merk is dat wij allemaal een gelijkenis hebben en dat is dat wij mens zijn. Ondanks deze gemeenschappelijke factor is het onze identiteit die maakt dat wij uniek zijn. Mode is een middel waarmee wij ons kunnen uitten. Wat jouw afkomst, religie, gender, geaardheid of persoonlijkheid ook mag zijn, EOL 9IIIIV7 vindt dat het uitdragen van een ieders identiteit met trots naar buiten toe uitgedragen mag worden.
EOL 9IIIIV7 staat voor gelijkwaardig, maar toch anders zijn. ''Be proud of who you are, lets be equal and unique together''.
Product:Het gaat om streetwear fashion, wij verkopen op het moment: Heren t-shirts, Dames t-shirts, Hoodies (unisex) en Sweaters (unisex). Qua invulling van de post(s) heb je gehele creative vrijheid. Wij vinden namelijk dat jij het beste weet hoe de volgers op jouw kanaal op de posts die je maakt, reageren.
Wat wij je kunnen bieden: Wij bieden jou een vast bedrag per post die je maakt. Daarnaast bieden wij jou een gratis kledingstuk naar keuze uit onze shop, dit krijg je naast de vaste vergoeding. Wij leveren de volgende dag. Wij zien uit naar een leuke collab! Voor ons is het belangrijk dat de samenwerking vrijdag 14 dec online staat, pitch dus snel, geef aan welk item je graag ontvangt en schiet toffe foto's.
Link

Anchor text / Link title

EO Leog Nine-Three-Four-Seven
Conditions
Common conditions
The article is a permanent placement
Put a link in the first paragraph
Shared through social media
Use at least one image
Other Conditions
Tag onze Insta in je post @eoleog
Gebruik #eoleog
Plaats een livestory met onze kleding aan
Op de Instapost draag je zelf een item uit onze webshop (geen flatlay)
Channels
Wanted Categories

Shopping
Beauty & Fashion

Target audience age

Campaign closes

5 months ago

Submitted before date

5 months ago