Briefing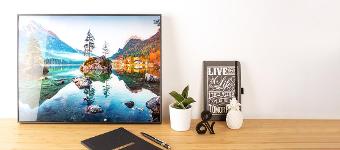 Wij helpen onze klanten van hun huis een thuis te maken door van hun herinneringen kunst te maken. Myposter is een van Europa's grootste producenten van printproducten, zoals posters, foto's op canvas, -acryl, -in fotoboeken en nog veel meer. Onze klanten kunnen hun eigen afbeeldingen uploaden of kiezen uit onze grote database met foto's.
We gebruiken de nieuwste printtechnieken, milieuvriendelijke inkt en materialen van de hoogste kwaliteit.
Wat zien we graag terug in het artikel?
We willen graag ons merk promoten (je kunt meer info over ons vinden op onze website, of door ons vragen te stellen in de opdracht, laat gerust wat van je horen. We willen graag dat het artikel gaat over het leuk decoreren van je huis, en hoe het ophangen van foto's van je dierbaarste herinneringen iedere kamer kan doen transformeren.
We staan graag open voor suggesties voor hoe jij denkt dat dit als beste bij jouw pagina kan passen!