Briefing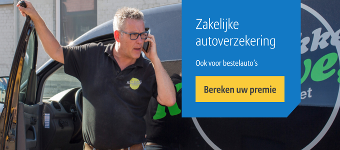 Als ondernemer houdt u niet van stilstaan. Niet met uw bedrijf, maar zeker ook niet onderweg. Allianz zorgt ervoor dat u door kunt rijden. U kunt bij ons kiezen uit een groot aantal verzekeringen voor personenauto's, bestelauto's en vrachtauto's, maar ook voor uw werkmaterieel. Bovendien kunt u bij ons terecht voor een verzekering voor elektrische auto's en motoren.
Voor Allianz zakelijke autoverzekering zijn wij op zoek naar bloggers die een zakelijke auto rijden voor hun eigen bedrijf en die een interessante blog willen schrijven met daarin een link naar de zakelijke autoverzekering van Allianz. Stuur ons een pitch met een leuk voorstel voor een blog en wie weet gaan we met jou de samenwerking aan!
Let op: Deze campagne is doorlopend. Elke maand worden er 2 a 3 nieuwe samenwerkingen aangegaan. Het kan dus even duren voordat je pitch beoordeeld wordt.
Link

Anchor text / Link title

In overleg
Conditions
Common conditions
The article should have at least 300 words
The article is a permanent placement
Shared through social media
Other Conditions
De link die geplaatst moet worden is: https://www.allianz.nl/zakelijk/verzekeringen/auto
Anchortekst is in overleg.
Naast de link naar Allianz willen we graag dat je nog een andere externe link plaatst. Dit is uiteraard geen link naar een concurrent van Allianz en ook geen commerciële of social media link.
Een interne link in het artikel naar een ander artikel op jouw eigen blog / website
Het artikel wordt op een natuurlijke manier geschreven
Channels
Wanted Categories

Automotive
Business
Science
Society
Careers
Beauty & Fashion
Hobbies & Interest
Sports
Health & Fitness
Family & Parenting
Law,Government & politics
Technology & Computing
Arts & Entertainment
Travel
Shopping
Education
Home & Garden
Religion & Spirituality
Food & Drink
Pets
Social
News
Personal Finance
Real Estate

Campaign closes

in 2 days

Submitted before date

in one week
Apply to join this campaign
Do you want to join this campaign? Log in or sign up and apply straight away!