Briefing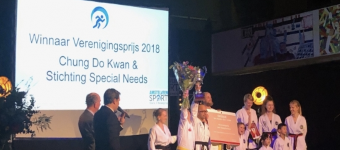 Afgelopen vrijdag is David de tweede keer uitgeroepen tot Sportvereniging van het Jaar op het Amstelveense Sportgala en daar zijn we trots op! Vorige keer ging de prijs naar Chung Do Kwan, de sportschool maar dit keer won David de prijs met de Stichting Special Needs. Wij willen graag zoveel mogelijk mensen (met en zonder special needs) helpen om een uitdaging te vinden in het sporten en ook daadwerkelijk de kans geven om te sporten. Kun jij hier een tof artikel over schrijven waardoor nog meer mensen in aanraking komen met onze visie en ons aanbod? Dan ontvangen wij graag je pitch met daarin hoe jij ons helpt meer naamsbekendheid op te bouwen.
Onze focus ligt op meer naamsbekendheid voor de stichting Special Needs. David is coach van het Nederlands team Special Needs en gaat straks met zijn sportploeg naar Nieuw Zeeland en zijn onder andere op zoek naar sponsors en meer interactie op social media en aandacht voor Special Needs.
Meer informatie: Meer informatie over Chung Do Kwan en Special Needs vind je op: https://m.youtube.com/watch?v=auxsIGL1oL en https://rtva.nl/2019/01/david-chung-motiveert-sporters-met-een-uitdaging/, www.stichtingspecialneeds.nl en www.chungdokwan.nl.
Link

Anchor text / Link title

Geen beperking maar een uitdaging
Conditions
Common conditions
The article is a permanent placement
Put a link in the first paragraph
Shared through social media
Other Conditions
Je hebt affiniteit met de Special Needs doelgroep
We hopen dat je ons kan helpen onze doelen te bereiken
Wij zijn een stichting, dus hebben beperkte financiële middelen
Channels
Wanted Categories

News
Society
Sports
Family & Parenting
Health & Fitness
Social
Education
Arts & Entertainment

Target audience age

25 till 34
13 till 17
35 till 44
18 till 24

Campaign closes

in 2 days

Submitted before date

in 2 days
Apply to join this campaign
Do you want to join this campaign? Log in or sign up and apply straight away!