Briefing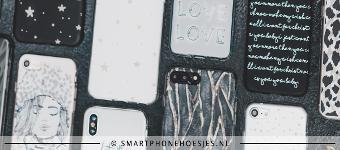 Smartphonehoesjes.nl is de grootste Nederlandse webwinkel voor telefoonhoesjes, tablethoezen en accessoires. Smartphonehoesjes.nl staat voor een groot aanbod aan producten: we hebben meer dan 45.000 verschillende producten op voorraad. Daarnaast garanderen wij kwalitatieve producten en een klantenservice die zes dagen per week voor haar klanten klaarstaat. Verzending verloopt razendsnel: op werkdagen vóór 21:00 uur besteld en betaald, betekent dat wij de bestelling nog dezelfde dag verzenden. Van 4 tot en met 11 maart geeft Smartphonehoesjes.nl bij een bestelling van een print hoesje een gratis hoesje met print cadeau! Met méér dan 1.500 producten is er altijd wel een hoesje dat bij elke specifieke stijl past.
Mede met jullie hulp willen we deze actie extra onder de aandacht brengen. Concreet gaat het om:
Méér dan 1.500 producten
Alle producten mét print (bijvoorbeeld marmer of panter print) maken deel uit van de actie
De actie is stapelbaar, dus 1+1, 2+2, 3+3, etc. het kan allemaal!
Graag werken wij samen met toffe publishers / bloggers / Instagrammers en ontvangen we jouw originele pitch. Let op: Het gaat om een barterdeal, je kunt dus zelf twee hoesjes bestellen en daarmee een toffe post creëeren,
Link

Anchor text / Link title

Telefoonhoesjes
Conditions
Common conditions
The article is a permanent placement
The article should have at least 300 words
Contain 2 links
Put a link in the first paragraph
Shared through social media
Use at least one image
Other Conditions
Het moet duidelijk zijn dat de actie vanuit de publisher wordt gecommuniceerd. Er kunnen geen rechten aan Smartphonehoesjes.nl worden ontleend.
De korting wordt automatisch in het winkelmandje verrekend bij de juiste selectie van deelnemende producten.
Bij een Instagrampost: tag @smartphonehoesjesnl in je post en de beschrijving (dus 2x)
Plaats #getitcovered in je beschrijving
Voor overige Hashtag inspiratie: bekijk onze eigen Insta
Bij een blogsamenwerking: plaats 1 link naar onze homepage en 1 naar jouw favoriete hoesje of een toestel-pagina
Let op: je ontvangt tevens een commissie over de aankopen via jouw post
Let op: dit is een barterdeal: Je ontvangt van ons een unieke kortingscode voor je bestelling
Dien uiterlijk je preview url op 27 februari op, de opleverdata zijn erg belangrijk!
Channels
Wanted Categories

Shopping
Beauty & Fashion
Hobbies & Interest
Social
Arts & Entertainment

Target audience age

Campaign closes

4 months ago

Submitted before date

3 months ago