Briefing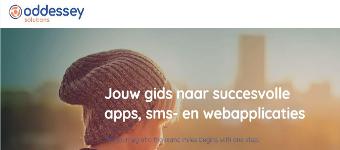 App ontwikkelaar Oddessey Solutions is de perfecte samenwerking tussen technologische kennis en het hebben van een groot empathisch vermogen; in de rationele wereld van app, sms-en webapplicaties kunnen luisteren naar je gevoel. Een website of applicatie ontwikkelen is één ding, maar bij Oddessey Solutions gaan wij een stap verder. Wij leveren de vindingrijke en impactvolle oplossing om organisaties te laten groeien.
Heeft je website en groot landelijk of juist regionaal bereik (Brabant) met een B2B (het liefst MKB+ bedrijven/corporate organisaties) focus? Super! Wij zijn opzoek naar een artikel met onderwerpen als technologische ontwikkelingen, innovatie, persoonlijke ontwikkeling, duurzame b2b relaties en authentiek ondernemerschap op een website passend bij onze kernwaarden (intuïtief in technologie, transparante communicatie, authentiek ondernemerschap).
Uiteraard heb je de vrijheid om een artikel te schrijven dat past bij jouw website. Wel willen we vragen te refereren naar één van onze cases en Oddessey Solutions neer te zetten als autoriteit. Het hoeft geen compleet commercieel artikel te zijn. Geef in je pitch aan hoe je het artikel gaat insteken en hoe je meer traffic naar deze website kunt genereren.