Briefing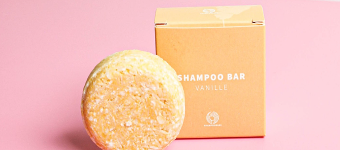 Shampoo Bars is opgericht door een kleine groep mensen die de wereld een beetje mooier willen maken. Onder het mom van "begin bij jezelf" hebben wij het initiatief genomen om deze webshop op te richten. Ons doel is om het gebruik van plastic shampoo flessen te minderen. Onze Shampoo Bars zijn geschikt voor elk haartype. Daarnaast hanteren we een zo laag mogelijke marktprijs, zodat het voor iedereen toegankelijk wordt. Eén Shampoo Bar staat gelijk aan 3 plastic flessen en gaat gemiddeld 80 wasbeurten mee. Shampoo Bars zijn milieuvriendelijker en (omgerekend) goedkoper dan de meeste reguliere shampoos. Samen kunnen we zorgen voor minder onnodig plastic gebruik.
Graag gaan wij de samenwerking aan met influencers die de warde inzien van deze shampoobars: Goed voor het milileu, duurzaam, beter voor je haar, ruime keuze en ze ruiken ook nog eens zalig!
Wil jij deze toffe shampoobars reviewen tegen een leuke vergoeding? Pitch dan nu en laat weten welke shampoobar je zou willen ontvangen!
Link

Anchor text / Link title

Shampoobars.nl
Conditions
Common conditions
The article is a permanent placement
The article should have at least 300 words
Use at least one image
Other Conditions
Doorplaatsing op Insta, YouTube en/of Facebook wordt gewaardeerd
Bij Insta: tag #shampoobarsfamily #plasticvrij #zerowaste
Facebook: Tag https://www.facebook.com/ShampooBars.nl/
Channels
Wanted Categories

Shopping
Beauty & Fashion
Health & Fitness

Target audience age

35 till 44
18 till 24
25 till 34
45 till 54

Campaign closes

in a month

Submitted before date

in 3 months
Apply to join this campaign
Do you want to join this campaign? Log in or sign up and apply straight away!