Briefing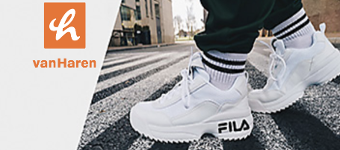 What do we want an influencer to do:
VanHaren Schoenen bestaat dit jaar 90 jaar! Dit willen ze natuurlijk aan iedereen laten weten. Daarvoor zijn we nu op zoek naar Instagram influencers die VanHaren kunnen promoten. Je ontvangt een paar schoenen (afhankelijk van het bereik is dit uit te breiden) en VanHaren vraagt daarvoor in ruil een post op Instagram en een Instagram story. Ze zouden ook graag zelf de foto's willen gebruiken op hun online kanalen.
Deze campagne is met name gericht op onze `FILA sneakercollectie. Het is de bedoeling dat je dus een paar FILA sneakers uitkiest en deze duidelijk in je post laat zien.
Waar zijn we naar op zoek? Instagrammers met een bereik van minimaal 10K volgers die onze FILA sneaker collectie op een creatieve manier willen promoten. Het liefst zien een een Insta Story en een post. Het is belangrijk dat je in je story de shortened link naar je sneakers of de FILA sneaker collectie laat gaan. Deze link maak je aan in de LinkPizza Link Shortener.
Je pitch:
* Pitch met een voorstel(wat ga je doen en op welke kanalen)
* Geef aan welke aantallen je denkt te kunnen realiseren (views / likes / sales)
Pitch alleen als je aan alle voorwaarden kunt voldoen.