Briefing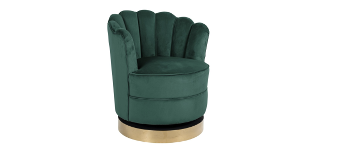 What do we want an influencer to do:
We zien steeds vaker dat een zithoek wordt verrijkt met een fauteuil. Dit zitmeubel is de eyecatcher van de woonkamer en zorgt bovendien voor een knusse sfeer. De Fauteuil Mila Groen voegt daar ook een stukje glamour aan toe.
Het model heeft namelijk een uitgesproken ontwerp. Zo heeft de Fauteuil Mila een velvet bekleding met sierlijke biezen. De voet van dit model heeft een chique goudkleur. De velvet fauteuil is hierdoor heel charmant.
De stoel heeft niet alleen een opvallende look, maar is ook heel praktisch. De chique fauteuil kan namelijk draaien. Staat je kop koffie niet direct binnen handbereik? Dan draai jij jezelf gemakkelijk even om met dit model van het meubelmerk Richmond Interiors.
Deze fauteuil is in meerdere kleuren beschikbaar, zie de productpagina.
Graag zien we een post waarin jij deze fauteuil lijn promoot en de volgende twee links en ankerteksten plaatst:
Graag geef je je volgers een kortingscode mee (gaan we per influencer apart aanleveren) om daarmee een mooie aantrekkelijke Call to action te genereren voor de lezer en hem triggeren om te bestelen of iig naar de website te gaan.
Voor meer afbeeldingen kun je deze link downloaden van Wetransfer: https://wetransfer.com/downloads/9cdbbaccbcde94dad42571d3ae7da51520190614085331/3c08011649e2bb1238cdf40127aca64520190614085331/07a225