Briefing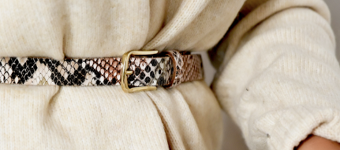 Tannery is dé webshop voor dames die graag hun outfit afstylen met een toffe, handgemaakte riem. Tannery is ontstaan uit een voorliefde voor lederen producten van hoge kwaliteit in combinatie met de alledaagse fashion. Zelf zijn we gek op ambachtelijke producten en we kunnen dan ook met trots zeggen dat al onze producten in Nederland worden gemaakt.
Who's behind it:Een fashionista? Een modeblogger? Een styliste dan? Nee eigenlijk niet. Ik omschrijf mezelf als nuchtere Brabantse met een passie! Zelf houd ik van simpele kleding die me het liefst een maatje slanker laat lijken. Hollands glorie? Ja! En daar schaam ik me niet voor. Een beetje Nederlandse dame heeft heupen en een kont, je raadt het al, ik dus ook. Heel af en toe vind ik die fijne broek maar mis ik nog net dat beetje steun om de boel op de juiste plek te houden! Dat beetje steun is voor mij en voor velen een absolute musthave; De Riem! Ik ben gek op Nederlandse merken en producten die op eigen bodem bedacht en gemaakt worden. Vanuit deze combinatie ben ik mijn eigen riemenlabel gestart: Tannery was Born!
Graag zien wij inspirerende artikelen die aansporen tot een een koop. Belangrijk is dat de link achter de juiste ankerteksten staan en op een natuurlijke manier verwerkt zijn in het artikel. We vinden het belangrijk dat je affiniteit hebt met fashion en je website hier met name op hebt gericht. Deze samenwerking is op basis van een shoptegoed t.w.v. €30,-
Link

Anchor text / Link title

damesriemen
Conditions
Conditions
Contain 2 links
Shared through social media
The article should have at least 300 words
The article is a permanent placement
Use at least one image
Put a link in the first paragraph
Other Conditions
Tannery wil meer naamsbekendheid en een groter bereik in de online wereld, het is voor Tannery belangrijk dat je een permanente link plaatst, uiteraard mag dit ook op de socials gedeeld worden.
Ankerteksten zijn in nader overleg
Channels
Wanted Categories

Shopping
Beauty & Fashion

Target audience age

Between 25 and 65

Campaign closes

in a month

Submitted before date

in a month
Apply to join this campaign
Do you want to join this campaign? Log in or sign up and apply straight away!