Briefing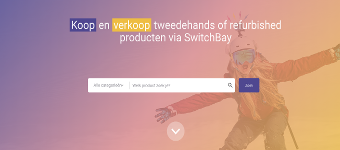 SwitchBay is een start-up die een veilig alternatief voor Marktplaats heeft bedacht. Via SwitchBay is het mogelijk om eletronica te kopen en verkopen, met volledige kopersbescherming en de look-and-feel van een webshop. Wanneer je een product niet ontvangt zoals dit in de specificaties stond of wanneer een product niet aankomt krijg je je aankoopbedrag retour.
What do we want an influencer to do:
Om SwitchBay meer bekendheid te geven zijn wij op zoek naar bloggers en influencers die over SwitchBay willen schrijven. Wij hebben met SwitchBay dé marktplaats te worden voor electronica, zodat niemand meer wordt opgelicht en je veilig tweedehands en refurbished electronica online kunt bestellen. Nog te vaak wordt je (onnodig) via andere marktplaats opgelicht en krijg je een ander product of ontvang je simpelweg niets.
Graag ontvangen wij je pitch met daarin jouw idee over hoe jij SwitchBay meer bekendheid kunt geven. In ruil daarvoor mag je een product bestellen t.wv. €50,- op SwitchBay.