Briefing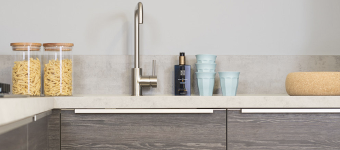 Houd jij ervan om de laatste trends in de gaten te houden en die in jouw huis te verwerken? Dan is deze campagne misschien wel een match voor jou! Hello Kitchen is een hip en jong keukenmerk dat jou inspireert met de mooiste keukenideeën en stijlkeuzes. Bij Hello Kitchen vind je de nieuwste keukentrends en toffe stijlen die op dit moment populair zijn. Denk bijvoorbeeld aan betonlook keukens, vintage keukens en industriële keukens. Natuurlijk kun je ook voor een klassiekere keuken bij Hello Kitchen terecht. Je vindt er namelijk ook tijdloze keukens, zoals minimalistische en tijdloze designs.
Welke stijl je ook zoekt: bij ons ga je het vinden. Tijdloos design en de allernieuwste trends zoals botanisch of vintage. We hebben keukens voor elke smaak en elke ruimte. Wi zijnj op zoek naar bloggers die een leuke blog willen schrijven rondom keukens. Het onderwerp mag je zelf bepalen, in afstemming met ons. In de blog verwerk je een link naar de betonnen keukens pagina of vintage keukens pagina van Hello Kitchen (welke link dat wordt bepalen we in overleg) én nog een tweede link naar een van de keukentrends pagina's op Hello Kitchen. We zijn op zoek naar een leuke inspirerende blog die jouw lezers enthousiast maakt over deze keukentrends of keukenstijlen!
Apply to join this campaign
Do you want to join this campaign? Log in or sign up and apply straight away!