Briefing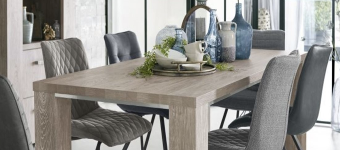 Pronto Wonen is een gezellige woonwinkel met meer dan 35 woonwinkels gelegen door heel Nederland en België. Het mooie van Pronto Wonen is dat het sfeervolle winkels zijn waar iedereen kan slagen. Het aanbod is heel divers met veel verschillende stijlen en bovendien wisselt het vaak. Seizoenen en trends wisselen immers regelmatig en daar speelt Pronto Wonen dan ook altijd op in. Kortom, er is altijd wel een woonoplossing passend bij jouw woonstijl! Het aanbod wordt zelf ontworpen en in Nederland gefabriceerd. Daardoor koop je altijd een oer-Hollands product en kom je dezelfde producten ook nooit tegen bij een andere retailer.
What do we want an influencer to do:
Graag brengen we onze eettafels extra onder de aandacht met deze campagne. Heb jij een website gericht op wonen en interieuw en plaats je regelmatig nieuwe content? Dan ontvangen we graag je pitch. We staan zowel open voor nieuwe artikelen waarin je een link naar https://www.prontowonen.nl/tafels/eettafels/. verwerkt, maar alleen het plaatsen van een link in een bestaand, relevant artikel behoort ook zeker tot de mogelijkheden. Geef jouw voorkeur in je pitch aan.
Apply to join this campaign
Do you want to join this campaign? Log in or sign up and apply straight away!