Briefing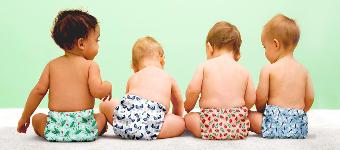 Kidzstore verkoopt duurzame babyartikelen zoals wasbare luiers zwemluiers, oefenbroekjes en meer. De focus van deze campagne ligt op wasbare luiers met als voorkeur ons eigen merk HappyBear. Het doel is om jonge aanstaande ouders te informeren over onze producten. Er bestaat nog een ouderwets beeld van wasbare luiers, terwijl de moderne wasbare luier hip en eenvoudig in gebruik is. We maken ouders graag bewust van de voordelen van wasbare luiers (minder afval, beter voor het milieu, kinderen sneller zindelijk). Ook vinden we het belangrijk dat ouders en weten dat ze bij Kidzstore terecht kunnen voor advies, de beste prijs en een groot assortiment duurzame baby artikelen vanaf de geboort tot aan zindelijkheid.
What do we want an influencer to do:
Bestaat jouw doelgroep voornamelijk uit jonge moeders en juich jij onze bewuste kijk op het gebruik van luiers toe? Wij zijn op zoek naar bloggers en vloggers die zijn of haar volgers enthousiast kan maken over het gebruik van (onze) wasbare luiers. Dit kan door middel van een productreview, een blog met tips of een give away. We lezen graag in je pitch hoe jij een samenwerking voor je ziet.
Het is eventueel ook mogelijk om een unieke kortingscode te delen met je volgers, deze kunnen we later bespreken en individueel aanmaken.
Let op: deze samenwerking is op basis van een barterdeal (shoptegoed) t.w.v. €100,- en je ontvangt daarnaast een affiliate vergoeding over de aankopen die jouw volgers op onze website hebben gedaan nadat ze op jouw link naar onze website hebben geklikt.