Briefing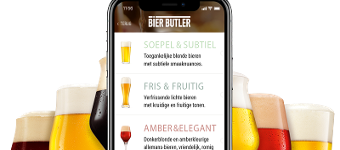 De Bier Butler app is een product van De Nederlandse Brouwers. Zij behartigen de belangen van 10 in Nederland gevestigde brouwerijen als Heineken, Swinckels en de Texelse Bierbrouwerij. Met de Bier Butler app vind je op elk moment een passend bier bij jouw gerecht. Combineren is nog nooit zo lekker geweest! De veelzijdigheid aan smaken blijft je verrassen en de mogelijkheden zijn eindeloos. Bier komt in verschillende stijlen, met ieder zijn eigen smaak en kenmerken. In combinatie met goed eten wordt het al helemaal een feestje! De Bier Butler geeft je tips, ideeën en suggesties, zodat jij binnen de kortste keren de lekkerste bier en food combinaties op tafel kunt zetten!
Binnenkort lanceert de Bier Butler app een gratis Bier & Spijs cursus. Je ontvangt toegang tot een flinke dosis kennis en inspiratie, aangeboden door de Brouwers van Nederland in samenwerking met Bierista. Je gaat ervaren hoe de basis werkt van het pairen van bieren en gerechten. In deze cursus leer je meer over smaak, proeven en de overeenkomsten en verschillen tussen bier en gerechten.
De app is beschikbaar voor iOS en Android en is gratis te downloaden.
What do we want an influencer to do:
Graag zien we dat je een post op je website plaatst en/of een Instagram/Facebook post. Het is de bedoeling dat het een review wordt dus je volgt daadwerkelijk de Bier & Spijs cursus binnen de app. Je schrijft over de Bier Butler app en de Bier & Spijs cursus. Het afronden van de cursus kost ongeveer een paar uur. Aan het einde maak je het eindexamen en ontvang je digitaal het Bier Butler certificaat.
Apply to join this campaign
Do you want to join this campaign? Log in or sign up and apply straight away!