Briefing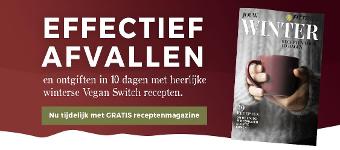 Tijdens The Vegan Switch ga je in 10 dagen effectief ontgiften door veel plantaardig en vegan te eten. Hierdoor krijg je een slanker, fitter lichaam en veel meer energie! Onder begeleiding van een coach ontvang je speciaal geselecteerde voedingssupplementen en een persoonlijk voedings- en bewegingsprotocol. Zo switch je jouw lichaam in 10 dagen naar een hogere ontgiftingsstand. Dit heeft heel veel voordelen voor je gezondheid, zoals:
afvallen zonder jo-jo effect
meer energie
betere darmwerking
mooiere huid
Tijdens de Vegan Switch doe je naast veel plantaardig eten, laagintensieve cardio en twee zweettrainingen (bijvorbeeld sauna bezoek). Daarnaast gebruik je speciaal geselecteerde supplementen die het ontgiftingsproces ondersteunen.
The Vegan Switch is de ideale manier om fris en energiek de feestdagen in te gaan! Nu met Vegan Switch winterreceptenmagazine, bestaande uit heerljke gezonde (vegan)winterrecepten. Voor de ultieme Vegan Switch ervaring
What do we want an influencer to do:
We verwachten dat de influencers hun volgers meenemen in hun 10-daagse Vegan Switch ervaring. Dat ze laten zien hoe het met hen gaat (fysiek/mentaal), wat ze allemaal doen (lage cardio, zweettraining), coach bezoeken, en vooral het bereiden van de recepten!