Briefing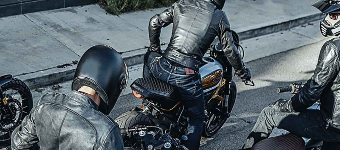 Op MotorkledingStore.nl vind je alles voor je motor: De beste merken in motorpakken, motorlaarzen, motorhelmen en motorjassen, tot motorhandschoenen, motorcrosskleding en motor accessoires. Met meer dan 10.000 artikelen direct uit voorraad leverbaar zijn wij de grootste en meest complete motorkledingwinkel van Nederland en ver daarbuiten. Bovendien streven wij naar de scherpst mogelijke productprijzen.
MotorkledingStore.nl is dé plaats waar u alle merken, kleuren, soorten en maten motor­kleding vindt. Bent u op zoek naar een all-weather motorpak, een race-overall of juist een stoer motorpak? Bij ons bent u aan het juiste adres voor alles op het gebied van motorcross- en enduro-kleding, evenals de laatste mode op motorgebied.
What do we want an influencer to do:
Wij zoeken fanatieke motorrijders die op de hoogte zijn van de laatste trends en ontwikkelingen en daarom een geloofwaardige blog over één van de twee onderstaande onderwerpen kunnen schrijven. Je mag zelf de inhoud en strekking bepalen; jij bent immers de pro!
Wij willen de onderwerpen motorhelmen en motorhandschoenen graag wat meer onder de aandacht brengen. Heb jij een relevante website en kun je over een van deze twee onderwerpen een goed artikel schrijven met daarin een link verwerkt naar onze homepage en de betreffende categorie op onze website? Dan ontvangen we graag je pitch.