Briefing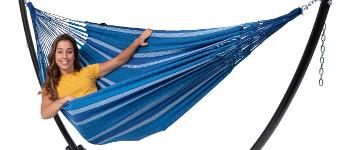 We vinden dat iedereen meer moet ontspannen. Je lichaam en geest verdienen het! En door in een hangmat te ontspannen krijg je gratis een minivakantie! We zorgen hiervoor door prachtige hangmatten en hangstoelen te maken. Wij geven er de voorkeur aan om zo duurzaam en eerlijk mogelijk te produceren. Hangmatten en hangstoelen van Tropilex worden met de hand geweven en afgewerkt door traditionele hangmatwevers in Colombia en India. Het is een groot genoegen om met deze bedrijven samen te werken voor het ontwerpen en produceren van de Tropilex-hangmatten en -hangstoelen.
Apply to join this campaign
Do you want to join this campaign? Log in or sign up and apply straight away!