Briefing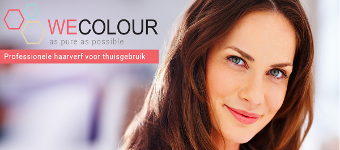 WECOLOUR is een bedrijf dat online haarverf en haarverzorging verkoopt. Onze producten zijn zo puur als mogelijk. Zo bevat onze haarverf bijvoorbeeld geen ammonia (dus geen vieze geur) en PPD. Wel bevat het verzorgende ingredienten zoals argan olie en calendula. Een kwaliteitsproduct met een uitstekende dekking, veel beter en zachter voor het haar dan reguliere verf en voor een betaalbare prijs. Een WECOLOUR haarverfpakket wordt geleverd door de brievenbus en bevat naast de verf en activator ook een shampoo, conditioner, handschoenen, kwastje en een uitgebreide gebruiksaanwijzing. Naast haarverf verkopen we ook haarverzorging. Onze verzorgingsproducten bevatten geen SLS, recorsinol en parabenen.
What do we want an influencer to do:
Heb jij een blog of artikel online staan dat gaat over zelf je haar verven of je haar verzorgen? Wij zouden graag een linkje met wellicht een klein stukje tekst vanaf deze pagina naar wecolour.com ontvangen. Heb je nog niet een dergelijk artikel online staan maar zou je wel een artikel willen schrijven? Ook dan komen we graag met je in contact.
Met deze campagnes willen wij onze SEO postitie verbeteren. We zijn dus op zoek naar goed gewaardeerde websites met een hoge domein autoriteit en een goede trusflow.