Briefing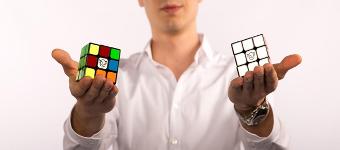 Wij bij Elfsquad maken product configuratie software voor de maakindustrie (voornamelijk MKB). Met Elfsquad product configurator kun je complexe producten, zoals installaties, productielijnen en carrosseriën, eenvoudig configureren. Deze configuratie is altijd foutloos. En met één druk op de knop rolt er direct een offerte uit. Dit maakt het voor verkopers gemakkelijk om foutloos te verkopen. Ook worden er direct stuklijsten ingeschoten in ERP. Integraties met CAD zorgen er voor dat bouwtekeningen (engineering) ook geautomatiseerd kan worden. Op deze manier automatiseer je het volledige pre-productieproces. En dat is waar Industry 4.0 vandaag de dag om vraagt. De configurator is cloud-based en volledig te customizen en te integreren met je website. Dus naast Sales & Operations zijn er op marketinggebied ook nog vele voordelen (denk aan leadgeneratie).
Wanneer bedrijven werken met veel dealers is vanuit Elfsquad hier zeer gemakkelijk beheer op te plegen. Welke producten of productlijnen verschillende dealers mogen verkopen bepaal je allemaal zelf. Ook is de configurator in te stellen in elke denkbare taal, erg gebruiksvriendelijk voor internationale producenten.
Waar wij bekend voor zijn is ten eerste het gemak van implementatie. Gebruikers kunnen dit zelfstandig, er komt geen programmeerwerk bij kijken. In tegenstelling tot andere configuratiesoftware. Daarnaast hebben wij kennis van de maakindustrie en is onze software gebaseerd op een passie voor de maakindustrie. Wij weten waar klanten tegenaanlopen en hoe ze hier mee om moeten gaan.
What do we want an influencer to do:
Een sterk artikel waar naar voren komt dat productiebedrijven niet meer zonder product configurator kunnen.
Een link naar: https://www.elfsquad.io/
Een stuk autorititeit: Wij waren onder andere genomineerd voor de Fast 50 Rising Star Award van Deloitte, dit mag best genoemd worden
Apply to join this campaign
Do you want to join this campaign? Log in or sign up and apply straight away!