Briefing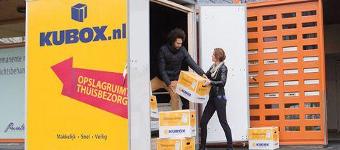 Kubox is een hele handige manier van tijdelijke opslag voor spullen. Er wordt een mini-container voor de deur geleverd. Jij kan je spullen erin zetten. De box wordt opgehaald en tijdelijk opgeslagen. Wanneer jij de spullen weer nodig hebt, worden deze voor de deur weer afgeleverd (mag ook op een ander adres).
Om dit product meer bekendheid te geven zijn we opzoek naar mensen die gaan verhuizen en gebruik kunnen maken van een Kubox. In ruil voor een gratis box willen wij graag dat jij je volgers laat zien wat een Kubox is, en hoe handig dit is voor mensen die gaan verhuizen. Dat doe je door een blogbericht te schrijven op jouw website (met link naar de website van Kubox) en via social media jouw volgers de box te laten zien. Dit mag via Instagram, Facebook of YouTube. Net wat jij het fijnst vindt. Een Kubox huren kost 139 euro per maand. In overleg bepalen we de termijn van huren en vergoeding.
What do we want an influencer to do:
We zijn opzoek naar influencers die binnekort gaan verhuizen! Je schrijft een blog waar je een blogbericht schrijft over verhuizen (met link naar Kubox) en deelt dezein 1 of 2 social media posts. Hierin laat je duidelijk zien wat de voordelen van de box zijn. Lijkt het je leuk om samen te werken? Reageer dan en vertel hoe jij de ideale samenwerking voor je ziet.