Briefing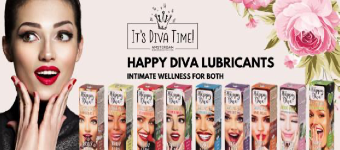 HAPPY DIVA LUBRICANTS Intimate Wellness for Both
It's Diva Time! is een door vrouwen gerund bedrijf dat zich specialiseert in Female Pleasure Products. Een gepassioneerd bedrijf dat zich toelegt om vrouwen meer bewust te laten worden van hun lichaam en het plezier dat het hen kan geven door o.a. de juiste intieme (verzorgings) producten te gebruiken. Happy Diva Body Lubricants (9 diverse producten) is het intimate care & wellness label dat voor It's Diva Time! geproduceerd wordt.
Wellness & Intimiteit - De wellness-trend begint steeds meer zijn weg te vinden naar intieme producten voor de vrouw, zoals lubricants (glijmiddelen), met of zonder smaakje, wel of niet stimulerend. Wat vroeger nog taboe was, eist nu wereldwijd een steeds groter marktaandeel op. Mede door bekende vrouwen, waaronder Oprah Winfrey, Kris Kardashian, Tyra Banks en onze eigen Heleen van Rooyen, worden glijmiddelen en stimulerende gels de hemel in geprezen, waardoor de kijk op dit onderwerp voorgoed veranderd is.
Happy Diva Body Lubricants zijn er op gericht om een meer comfortabele, plezierige en bevredigende seks te ervaren, solo of met een partner. Uiteraard zijn onze producten ook te gebruiken voor verlichting van problemen, zoals vaginale droogheid door o.a. hormonale veranderingen, stress, medicijnen, etc. en voor eventuele ongemakken na seks.