Briefing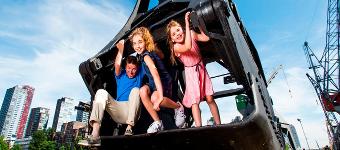 In het Maritiem Museum Rotterdam ontdek je de enorme invloed van de maritieme wereld op je dagelijks leven! Ga mee op reis door ons maritieme heden en verleden in eigentijdse tentoonstellingen voor grote én kleine avonturiers. Luister naar verhalen, bewonder topstukken uit onze vooraanstaande collectie of doe mee aan een van de vele activiteiten. Het museum ligt in de oudste en grootste museumhaven van Nederland, waar je op historische schepen en kranen beleeft hoe de wereldhaven Rotterdam op déze plek begon.
In ons speciale zomerprogramma zijn dagelijks historische schepen en kranen te bezoeken. Kinderen gaan op pad met een gratis speurtocht om dieren te zoeken, die verstopt zijn in de haven. Of ze stropen de mouwen op en gaan de slag te gaan als ketelbinkie om een stoere zeemanstatoeage te verdienen. Bekijk hoe vroeger touw werd geslagen of sluit je aan bij één van de extra activiteiten op zondag in de zomervakantie van regio midden.
What do we want an influencer to do:
Wij zijn op zoek naar influencers die geïnteresseerd/gespecialiseerd zijn in dagjes uit voor gezinnen. Ontvang vrijkaartjes om met hele gezin langs te komen, in ruil voor een artikel over ons zomerprogramma (te bezoeken van 17 juli t/m 30 augustus). Vermelding / link naar onze website is een must. Benoem bij de samenwerking dat je eenvoudig online kaarten kunt boeken.