Briefing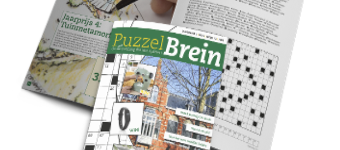 Mijn naam is Rowi en ik ben de uitgever van puzzelblad PuzzelBrein. Dat is een lekker dik puzzelblad met 36 verschillende puzzels en een prijzenpot van rond de 20.000 euro.Je kan hier klikken om een voorbeeldexemplaar in te zien.
Mijn blad bestaat bijna 12,5 jaar en daarom hebben we een leuke jubileumactie. We bieden mensen de mogelijkheid om zich in te schrijven voor een gratis blad als ze in ruil daarvoor toestemming geven om later een aanbod te ontvangen. Ze krijgen vervolgens het blad ter waarde van € 11,90 en enkele weken later stuur ik ze een mail met daarin het volgende aanbod: 50% korting op de stuksprijs en per keer betalen (en dus ook per keer opzeggen). Dat werkt prima en levert hele veel positieve reacties op. Iedereen is blij met het gratis blad en ik ben blij met de mensen die later op het aanbod ingaan. Dit is de link waar mensen zich kunnen inschrijven (nadat ze een klein puzzeltje hebben opgelost): www.puzzelbreinactie.nl/zekerdoen Ik heb dat kleine woordpuzzeltje toegevoegd zodat ik zeker weet dat mensen het blad echt willen ontvangen.
Goed om te weten: men hoeft niets iets op te zeggen, maar geeft alleen toestemming om later benaderd te kunnen worden voor een vervolg aanbieding.
What do we want an influencer to do:
Dat ze een leuke post schrijven over het blad, waarin ze ook verwijzen naar de link waar men zich kan inschrijven. Graag nog niet vermelden wat het latere aanbod inhoudt. De maximale vergoeding per samenwerking is €80,-
Apply to join this campaign
Do you want to join this campaign? Log in or sign up and apply straight away!