Briefing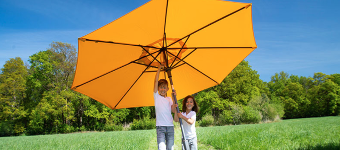 Parasol-shop.nl heeft het grootste aanbod parasols van de gehele Benelux. Met de breedste collectie van de Benelux kun je altijd de gewenste maat of kleur parasol vinden. Bij Parasol-shop vind je alle soorten parasols: grote zweefparasols, praktische muurparasols of stokparasols van twee meter tot acht meter doorsnede. Of uw balkon of terras nu groot of klein is, Parasol-shop heeft altijd een parasol die er voor zorgt dat u in de schaduw kunt zitten.
Op Parasol-shop.nl koopt u parasols van gerenommeerde merken zoals Glatz, Madison, Borek en 4-Seasons. Zo weet u zeker dat u een kwalitatief uitstekende parasol koopt waar u jarenlang plezier aan beleefd. En dat voor een scherpe prijs. Op Parasol-shop.nl vindt u altijd aanbiedingen en acties. Zo wordt het kopen van een nieuwe parasol pas gemakkelijk en plezierig!
Apply to join this campaign
Do you want to join this campaign? Log in or sign up and apply straight away!