Briefing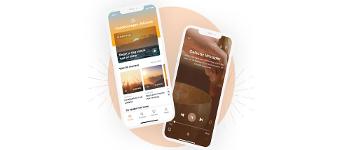 Meditation Moments is dé Nederlandstalige meditatie app met meer dan 600.000 gebruikers. Sinds kort zijn we ook internationaal uitgerold. Als premium member heb je de mogelijkheid om naar meer dan 100 meditaties te luisteren, te genieten van drie luisterboeken van Michael Pilarczyk en om te ontspannen bij ruim 30 rustgevende muziektracks. Naast een premium account kan je de app ook gratis gebruiken. Per moment zijn diverse meditaties beschikbaar gesteld. Om de gratis gebruikers een voorproefje te geven van alle premium content / mogelijkheden binnen de app is een gratis 10-daagse trial beschikbaar. We zien dat meer vrouwen dan mannen de app gebruiken (70/30) en met verschillende doeleinden: stress verminderen, betere slapen, meer focus. We zijn erin geslaagd om het 'zweverige' karakter van meditatie al wat te verminderen gezien het grote aantal mensen dat de app inmiddels gebruikt. Maar we zien ook nog steeds veel mensen die de app niet kennen of meditatie / rustgevende muziek niet hebben ontdekt. Meditation Moments heeft als doel zoveel mogelijk mogelijk mensen te laten genieten van een momentje rust, al is dat al maar 10 minuten per dag.
Campaign application
Do you want to join this campaign? Log in or sign up and apply straight away!