Briefing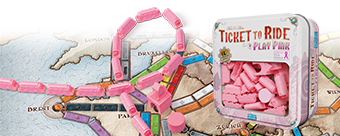 Asmodee is distributeur van de leukste bord- en kaartspellen in de Nederlandse markt en bekend van diverse titels zoals Ticket to Ride, Dobble, Pandemic en Exploding Kittens. Wij zijn een samenwerking aangegaan met Pink Ribbon:
1 op de 7 vrouwen krijgt te maken met borstkanker. Meer onderzoek naar de ziekte blijft daardoor hard nodig. En daarvoor is geld nodig. Asmodee lanceert binnenkort een bijzondere campagne met het product Play Pink. Dit product is een speciaal ontworpen set treintjes voor het populaire bordspel Ticket to Ride met volledig roze accenten voor Pink Ribbon. Elke verkochte set draagt direct bij aan de missie van Pink Ribbon en alle winst wordt gedoneerd aan dit goede doel. Met de opbrengsten van dit product steun je samen met ons Pink Ribbon in de de strijd tegen borstkanker.
Graag vragen we daarom jouw hulp bij het onder de aandacht brengen van onze speciale roze getinte treintjes voor het meest populaire bordspel van Nederland, Ticket to Ride.
Voor deze campagne hebben we dus helaas geen budget beschikbaar maar ontvang je in plaats van een fixed fee, een mooi pakket met Ticket to Ride Europe incl. deze Pink Ribbon uitbreidingsset.