Briefing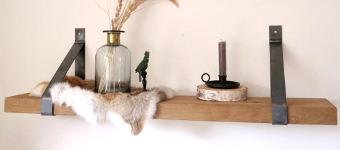 Steigerhoutpassie is een webshop in voornamelijk lifestyle artikelen. De belangrijkste waarden waar we bekend om willen staan zijn Kwaliteit & Service!! We maken de producten in eigen werkplaats waardoor we de kwaliteit goed kunnen waarborgen. We behandelen elke klant met veel tijd en aandacht en proberen altijd te zoeken naar oplossingen, zo proberen we onze service hoog te houden. We leveren in Nederland & België.
Voor deze opdracht willen we ons focussen op de wandplanken: https://steigerhoutpassieshop.nl/product/eiken-rustiek-geschaafd-19-21cm-breed/. Incl. 1x met blind plankdragers tot max. 165cm lengte x Breedte 21cm en Incl. 1x met stalen plankdragers tot max 165cm lengte x Breedte 20cm. Je ontvangt dus twee verschillende wandplanken die we graag allebei terug zien in mooie posts.
Campaign application
Do you want to join this campaign? Log in or sign up and apply straight away!