Briefing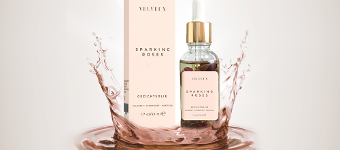 Velveux gelooft dat iedere persoon van nature een 'glow' heeft, een soort gloed of aura om je heen. Het straalt aantrekkingskracht, vertrouwen en geluk uit. Deze "Glow" trekt onbewust mensen naar je toe en Velveux gelooft erin dat iedere persoon op deze natuurlijke manier kan schitteren. Wij helpen jou bij het ontdekken van je natural glow. Met diep verzorgende producten & een snufje filosofie creëren wij een krachtige skincare én mindfulness routine. Schoonheid komt van binnen! Met 100% natuurlijke ingrediënten en de kracht van mama aarde laat Velveux jou van binnenuit stralen.
In deze campagne staat onze Rozen gezichtsolie (100% natuurlijk) centraal. Dit is een gezichtsolie serum die al jouw huidproblemen aanpakt. Bijna iedereen heeft wel eens last van pigment vlekken, rimpels, droge plekken of oneffenheden. Verlang je naar een zachte, egale huid? Dat kan met het rozenolie serum van Velveux. Dit serum pakt alle problemen aan en zal het verzorgen van de huid een stuk gemakkelijker voor je maken:
Kalmerende werking
Stimuleert de collageen aanmaak
Rijk aan vitamine C en E
Volledig Vegan en 100% natuurlijk
Goed bij een droge huid
Beschermt de huid tegen vrije radicalen
Werkt anti-aging
Campaign application
Do you want to join this campaign? Log in or sign up and apply straight away!