Briefing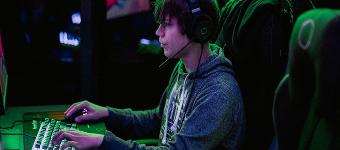 Welkom bij Gammax! Binnenkort openen wij het grootste Gaming & Esports Center van Nederland van ruim 535 m2 verdeeld over 2 verdiepingen op de Kurhausweg in Scheveningen.
Gammax Gaming & Esports Center, een eerste in zijn soort in Nederland, bevindt zich in het Pathé bioscoopcomplex in Scheveningen, boven de McDonald's op de 1e en 2e verdieping. Het center is vanaf de grond af op maat gebouwd met één doel voor ogen: de beste plek bieden om favoriete esports titels te bekijken en populaire gametitels te spelen zoals Counter-Strike, League of Legends, Apex, Call of Duty, World of Warcraft, Dota 2, Fortnite, Overwatch, Hearthstone, PUBG, Battlefield 2042, Mario Party, Rocket League, Fifa 22, Minecraft én nog veel meer games!
Dompel je onder in de gamewereld van Gammax met 70 topklasse pc's en meer dan 25 consoles voor ultiem gameplezier. Verder kunnen we je voorzien van verschillende snacks en kan je de tofste gaming lifestyle producten kopen in onze fysieke winkel of webshop.
Wat we verkopen in onze webshop:
In de Gammax Webshop hebben wij leuke film- en game gerelateerde kleding en accessoires van o.a. Animal Crossing, Assassin's Creed, Atari, Avengers, Batman, Deadpool, Doom, ESL, Game Boy, Harry Potter, Joker, Jurassic Park, League of Legends, Mario, Marvel, Mortal Kombat, Naruto, Nintendo, Pac-Man, PlayStation, Pokémon, Resident Evil, Star Wars, The Elder Scrolls, The Mandalorian, Transformers, Venom, Xbox, Zelda én nog veel meer andere toffe brands! Naast T-shirts, Sweaters en Hoodies zijn er ook diverse Petten, Tassen, Portemonnees en Sieraden. Ontdek onze uitgebreide collectie met meer dan 1500 items in onze Gammax Webshop. Ga voor Maximum Style!