Briefing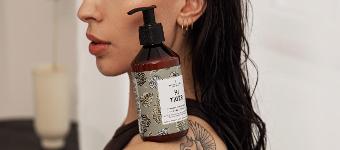 The Gift Label houdt van mensen verrassen, anderen een fijn gevoel geven. Op alle mogelijke manieren. Keep on giving! Bekijk ook de video. Het is onze passie om je te inspireren met originele en well-designed cadeaus. We creëren met liefde mooie en heerlijke vegan lichaamsverzorgings- en lifestyleproducten die jou met de vrolijke quotes en prachtige designs een uplifting experience geven. Dit maakt het een perfect cadeau dat je persoonlijk kan maken voor diegene die het verdient. Unieke cadeaus die leuk zijn om te kopen en nog leuker om te geven!
Naast dat onze producten perfect in ieders interieur passen, we proberen ook iets terug te geven aan de natuur. Deze duurzame cadeaus bestaan bijvoorbeeld uit flessen die gemaakt zijn van gerecycled plastic. De producten zijn vegan en bevatten geen sulfaten en kleurstoffen en worden gemaakt met verzorgende ingrediënten zoals Argan olie en vitamine E.
Naast heerlijke home fragrances en hand- en lichaamsverzorging voor haar hebben we nu ook leuke cadeaus voor mannen, zoals handzeep en doucheschuim voor hem.
Toevoegingen op praktisch alle producten zijn:
Vegan
Geproduceerd in Nederland
Vrij van sulfaten en kleurstoffen
Vrij van parabenen
De flessen en potten zijn gemaakt van 100% gerecycled plastic
Tubes zijn gemaakt van plastic op basis van suikerriet
Onze lichaamsverzorging bevat Argan olie en vitamine E
Kortom: The Gift Label's producten zijn goed voor jou en goed voor de wereld!