Briefing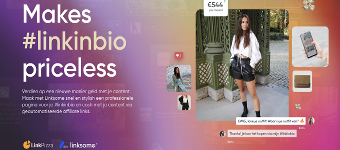 Verdien extra geld met jouw social media kanaal door gemakkelijk affiliate links aan te maken en te plaatsen in jouw Linksome link-in-bio!
Wat zijn affiliate links?
Affiliate links zijn meetbare links die aan een merk/webshop doorgeven via welk medium (of welke influencer) een aankoop heeft plaatsgevonden. Door jouw persoonlijke affiliate links te delen met je volgers, ontvang je een vergoeding wanneer jouw volgers via jouw link een aankoop doen. Vaak is de vergoeding een percentage van de bestelwaarde.
Wat kun je met Linksome?
Maak snel en stylish een professionele mini-website voor je link-in-bio. Met de Linksome tool kun je meerdere links in één overzicht verzamelen. Denk bijvoorbeeld aan verschillende social media kanalen, samenwerkingen met merken, affiliate links of losse producten. De URL van je mini-website plaats je in je profiel of biografie van je social media kanalen. Zo kun je meer bezoekers op je social media kanaal naar je mini-website leiden.
Je kunt jouw Linksome pagina personaliseren naar hoe jij deze zelf graag ziet. Kies de kleuren, teksten en achtergronden en maak van jouw Linksome je visite kaartje!
Hieronder vind je voorbeelden van profielen ter inspiratie:
Hoe ontvang je geld van affiliate links?
Nadat er een productaankoop is geweest via jouw affiliate link, wordt deze in LinkPizza geregistreerd en betalen wij de vergoeding aan je uit. Je kunt je sales en de status ervan terugvinden onder leads in je LinkPizza-account.
Campaign application
Do you want to join this campaign? Log in or sign up and apply straight away!