Briefing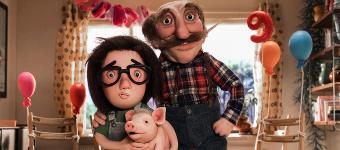 Filmdistributeur Gusto Entertainment brengt binnenkort de bioscoophit KNOR uit, een film die als eerste Nederlandse animatiefilm ooit op prestigieuze filmfestival van Berlijn draaide. De film straalt één en al schattigheid uit en is gemaakt voor jong en oud.
Korte synopsis
Voor haar negende verjaardag krijgt Babs van haar opa uit Amerika het varkentje Knor cadeau. Haar ouders zijn daar niet zo blij mee. Alleen op voorwaarde dat Knor een puppycursus volgt, mag Babs hem houden. Maar dan blijkt opa stiekem andere plannen te hebben met Knor. Hij doet mee met de worstenwedstrijd van de Vereniging voor Vleeswaren van Verse Varkens...
De focus van de film ligt bij een anti-vleesbeleid. Met deze film promoten we vegetarisch eten en het verhaal ontmoedigt ons om dieren te houden voor de vleesconsumptie. De film heeft al naamsbekendheid vanwege zijn festivalselectie en de sterrencast (Jelka van Houten, Loes Luca, Kees Prins, Henry van Loon), en zal nog beter zijn doelgroep bereiken wanneer mensen met een groot bereik zich kunnen vinden in de boodschap van de film en zich daarvoor willen inzetten.
Campaign application
Do you want to join this campaign? Log in or sign up and apply straight away!