Briefing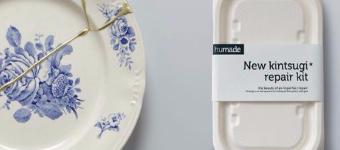 Mora Approved (A.K.A. Cassey Shapiro and Claudia Cameron A.K.A 'C&C') started their little boutique as a way of sharing their passion for European homewares and accessories. With an eye for unique design and beautiful vintage, Mora Approved is always on the lookout for special and functional pieces that help you to bring the best of Europe home.
Sourcing a capsule collection of homewares, kitchenware, gifts and accessories hailing from twelve (and counting) different European countries, Mora Approved is proud to feature unique products from as far north as the Finnish Lapland to as south as Spain's Madrid.
So if you love the diversity of European culture and you love the idea of stylish living, then you're right at home at Mora Approved.
What's the New Kintsugi Kit?
With the New Kintsugi Repair Kit, you not only get to salvage that beloved chipped or broken ceramic plate, but you also get to reinvigorate it with this gorgeous gold filler. The ancient Japanese art of kintsugi, which means "golden joinery", is all about turning ugly breaks into beautiful fixes - proposing that repair can make things better than new
Collaboration Requirements
The ideal partners for Mora are sites with a passion for DIY and craft, with the most traffic coming from NL, DE or the UK.
It is important to have beautiful photos of the kit in use, and what it can do.
English or Dutch.
Link

Anchor text / Link title

Kintsugi
Conditions
Other Conditions
Minimaal 1 afbeelding
Domain Authority van minimaal: 20
Permanente plaatsing
Plaats minimaal 2 links
Ten minste 300 woorden
Channels
Wanted Categories

Campaign closes

7 months ago

Submitted before date

6 months ago