Briefing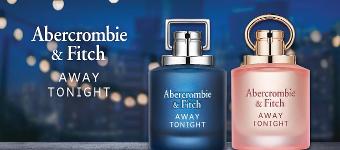 Abercrombie & Fitch begon als een kleine speciaalzaak, die de hoogste kwaliteit outdoor kleding voor vissers en jagers verkocht.
Het merk heeft zich door de jaren heen ontwikkeld en focust zich nu op de moderne consument, terwijl het trouw blijft aan zijn erfgoed, duurzame kwaliteit en nonchalante Amerikaanse stijl.
AWAY TONIGHT
In navolging van de succesvolle lancering Away in 2021 komt All-American love brand Abercrombie & Fitch deze zomer met een nieuwe dames- en herengeur. Away Tonight draait om het koesteren van momenten die we met elkaar beleven in het nu.
De houtachtige, frisse geur voor hem belichaamt het gevoel dat je 's nachts je beste leven leidt. AWAY TONIGHT for Women is een amber, fruitige geur die staat voor de voorpret van het magische gevoel van een avond samen met vrienden. Beide geuren zijn vegan en bevatten geen sulfaten of parabenen.
Campaign application
Do you want to join this campaign? Log in or sign up and apply straight away!