Briefing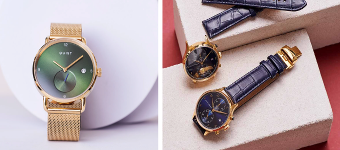 Welkom bij QUIST Watches! Wij zijn een jong Nederlands bedrijf en ontwerpen tijdloze en elegante horloges. Bij QUIST waarderen we kwaliteit net zo veel als een eerlijke prijs. Betaalbare luxe, maar met gebruik van de beste materialen.
Zo worden al onze horloges voorzien van het beste Zwitserse of Japanse uurwerk en gebruiken we krasvrij saffierglas. Wij streven ernaar om op elk onderdeel net dat beetje extra te doen, zodat onze klanten met trots onze horloges kunnen dragen en er elke dag van kunnen genieten.
Onze doelgroep
Wij richten ons op mannen en vrouwen die het (vaak kwalitatief teleurstellende) fashionhorloge van rond de €100,- ontstegen zijn en toe zijn aan de volgende stap op horlogegebied. Mannen en vrouwen tussen de 25-45 die kwaliteit en stijl waarderen en op waarde weten te schatten.
Campaign application
Do you want to join this campaign? Log in or sign up and apply straight away!