Briefing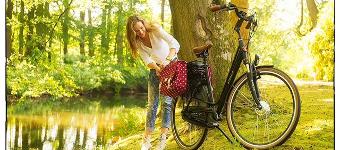 Wij zijn Nederlanders en fietsen zit in ons bloed. In elke fase van je leven heb je een fiets nodig die goed bij je past. Jouw fiets zegt iets over wie je bent. Het is je partner door dik en dun. Soms heb je last van tegenwind en zit het even tegen. Een beetje hulp is op zo'n moment niet overbodig. En als je fiets je dan ook nog in de steek laat? Dan weet je pas echt wat je mist.
Stella Fietsen is op zoek naar nieuwe bloggers om meer bekendheid te genereren bij haar doelgroep. Voor deze campagne is deze doelgroep recreatiefietsers en forensen die een e-bike zouden kunnen gebruiken. Stella Fietsen heeft eerder naar tevredenheid met mommy bloggers gewerkt, deze bloggers hoeven zich voor deze campagne daarom niet aan te melden.
Het artikel dient informatief met een persoonlijk tintje geschreven te worden. Om jou als blogger van zoveel mogelijk inspiratie te voorzien willen we je daarom uitnodigen bij een van de testcentres van Stella Fietsen om een elektrische fiets uit te proberen.
Ook enthousiast over Stella Fietsen? Pitch dan snel op deze campagne. Stella wil maandelijks nieuwe blogs laten verschijnen, de plaatsingsdatum bepalen we daarom graag in overleg met jou ergens in de komende maanden.
Conditions
Other Conditions
Permanente plaatsing
Tenminste 300 woorden
Minimaal 2 links naar Stella:
Elektrische fietsen of e-bike naar https://www.stellafietsen.nl/elektrische-fietsen/ of https://www.stellafietsen.nl/e-bikes/
Tweede link in overleg.
Delen via social media
Minimaal 1 afbeelding – zelf gemaakt tijdens bezoek e-bike testcentrum
DA minimaal 15
Doelgroep: recreatiefietsers en forensen.
Channels
Wanted Categories

Careers
Sports
Social
Shopping
Society
Business
Travel
Arts & Entertainment
Health & Fitness
Home & Garden
News

Campaign closes

7 months ago

Submitted before date

6 months ago